Every winter, every kid wants to make an igloo outside the house. But due to weather changes and temperature, so many kids in different cities have not enough snow to build an igloo. Either the shortage of snow, the weather is to fridge, we can't make it look like a real thing. Also, snow forts are not safe either. So we found an alternatively fun way for kids to make an igloo inside the house. Yes, you read it right. And we are going to make it with their fun and the most favorite thing which is marshmallow. Yes, we are doing marshmallow igloo craft. In this blog, we are securing Marshmellow with glow, but you can also add edible icing in this craft. The best part of this fun activity is that there is no need for gloves requires. And you would not hear your kids saying that it's too cold. You can make this marshmallow igloo inside the house where it's warm and nice. It will keep your kids busy while they are home on holiday breaks. 
Here Little Treehouse is showing you how to make a Marshmellow igloo craft. Keep reading and make this marshmallow igloo craft with us. 
Create an Amazing Marshmallow Igloo Craft for Children
All the material that we need is :
Foam plates

Foam bowls

Glue or edible icing if you prefer

Package of mini marshmallows

Popsicle stick

Scissors

Hot glue gun and hot glue

Xacto knife

Toilet paper oil
Directions of Making Marshmallows Igloo Craft
Step 1
Cut the foam bowl from the edge so there will be no edge in the foam bowl. Cut a toilet paper roll in 2 – 3-inch pieces with a knife ( Xacto ). All you need is to slice each of those pieces in a half. And at this point, you will have mini arches.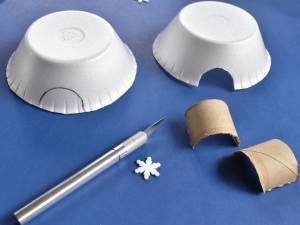 Step 2
Trace the foam shaped dome against the hole of foam bowl. And then just cut it out. Now you have to slice the arches into the bowl and place it with hot glue. Remember, before starting this craft put your hot gun on so you can not waste any time in heating the gun. Here you have the entrance of the igloo.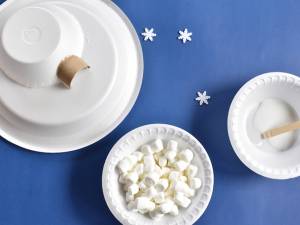 Step 3
Place the glue with a hot glue gun on the bottom side of the foam plate.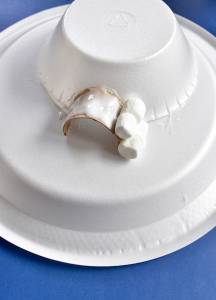 Step 4
Here the fun part just came. And we all know it's marshmallows. Just begin this by layering some glue on the top of the foam with a stick. And remember to set a rule while making this that the kid does not eat so many marshmallows as they build an igloo craft. They will not eat all the marshmallows at once. They are allowed to take one marshmallow after covering one row. This trick energizes them and they will do it faster.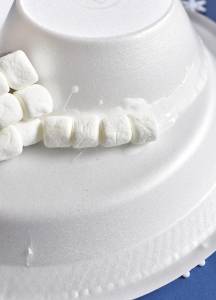 Step 5
In the next step, you have to use a stick to add glue on the bottom line of the bowl and cover its edges. Then tick marshmallows one by one until the entire bowl was covered with the row of horizontal with marshmallows.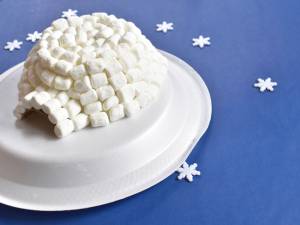 Step 6
Continuing adding marshmallows. Remember you have to stop when the entire area is covered. And here you have to marshmallow igloo craft. If you want to look it more natural. Take a toothpick and add some cartoonish pictures of people and kids on it. Place those toothpicks on the front of the entrance of the igloo. Place some snowy animals on the toothpick and place it from or right or left corner of the igloo.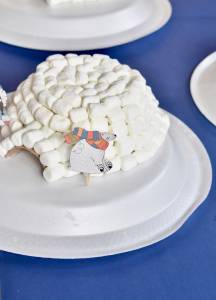 Gather some of your child's friends while making this igloo craft and make your children more expressing. Because in front of friends children open faster. 
We hope this blog will help you make your kid happy. If you have any other ideas of making an igloo without going outside. Kindly let us know. We would love to hear from you. Enjoy winters!