Every parent around the world, encourage their children to eat healthy and stay healthy. But in this real-life, everything changes altogether. Every kid nowadays refuses to eat fruits and vegetables. All they need is unhealthy terms. This is called the never-ending fight between both of you. There are so many parents that find teaching their kids about a healthy diet is difficult. And if you are one of the parents who is finding it difficult, then make your kids healthy by a creative approach. All you need to introduce your kids with some creative fruits and vegetable crafts is a great way to encourage them and enhance them to know the benefits and importance of healthy eating. They will surely make it a good healthy habit after these fruits and vegetables crafts.
Fun Activities of Fruits and Vegetables for Kids
Every kid is always attracted to something which is interesting and fun doing. These fruits and vegetables crafts are for every kid, it has fun and encouragement. All you need in one. Right? Fruits and vegetables crafts teach them about food benefits. Here Little Treehouse is giving you fruits and vegetables crafts that you kids will love.
Remember before doing these crafts, the chopping is done by some adults or parents.
Mr. Potato Head
A very popular character from the toy story. Remember? Your kids would probably love Mr. potato head. 
All you need is :
A potato – with boiled or raw with skin intact

A mushroom boiled ( big ) 

Diced carrot

Sliced red belled pepper

Broccoli

2 black olives

Spanish leaves or you can say sauteed lettuce

Diced cucumber

Toothpicks
How to make this craft
It depends on whether your kids want to eat it boiled or baked, just used the potato in the chosen form. Help your kids cut and chop vegetabless with a safety knife. You can let them cut it by themself if it is possible. Using toothpicks helps mushroom to be the ears of Mr. potato head. Now just take the help from the olives and make them the eyes of Mr. potato head. Take help from the diced carrot and put it directly on the nose area. Make the mustache with red belled pepper. Ask your child to add and place some Spanish leave to make Mr. potato head hairs. And here is your child's Mr. potato head is ready. 
If you take a boiled potato then it is ready to eat. alternatively, you can be baked and serve your child.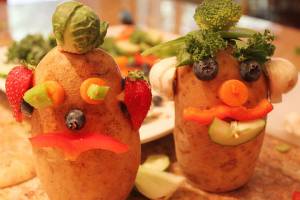 Apple Bin
What can encourage most to your kids to use some apples for their fun activity? Take some time to tell you, child, the nutrients facts about apple. 
All you need is :
Apple

Paper towel

Paints – choose it on the dependence of the surface where your child will make this craft.

Paper plate

A storage box of kid
How to make this craft :
Start this craft by helping your child cut the apple in a half. Help to blot it with a paper towel. Ask your kid to add some paint on the paper plate. Ask your kids to place the front side of the apple on the plate with the paint. Once the color set and dry, help your kid set the apple on the storage box.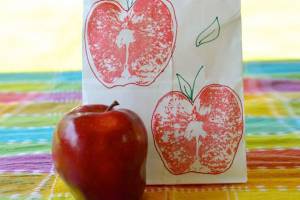 Mushroom Print Pin Board
A great way to indulge your kid in this fun and beautiful world is to make them doing fun and artistic things. These fruits and vegetables crafts give your child grow better this year by a fun activity.
All you need is :
A pinboard

A large button mushroom
Paper towel
Acrylic paints
Paper plate
How to make this craft :
start to help your kid slicing the button of mushroom in a half. now help your kids with drying the mushroom with a paper towel. just ask your kid to add and place some acrylic color or paint on the paper towel, then ask them to press the flat side of the mushroom to the paper towel. once the color sets and gets dry then press the mushroom into the pinboard. repeat this craft and create different shapes and designs. The same technique used for other shapes too. 

Are these fruits and vegetables crafts are easy and fun doing for kids? Yes totally. Ask your kid about the experience and benefits of these fruits and vegetables crafts. 
We hope this blog helps you. If there are some fruits and vegetables crafts you know. Kindly let us know. We would love to hear from you.