Art and crafts help children in their daily life and develop so many life skills in them. When kids focused on something they always get with something new and cool. They build cognitive and emotional skills. Paper flowers all need is cutting, folding, pasting but these three things build and develop motor coordination in children. And most important when they work together, they build socio-emotional skills. If you are ready to introduce your child the world of crafts then continues reading. 
How to Make Paper Flowers Easily
All the flowers that we mentioned in this blog are made of paper. People made paper flowers with printed papers, colored papers, while others use different kinds of papers like crepe paper, tissue paper and sometimes they use coffee filters. Isn't it amazing? Little treehouse is giving you some DIY of most beautiful and gorgeous paper flowers that your kids love to make. And they also give these paper flowers to their friend's birthday or someone on occasion. These papers flowers are something that each age of groups can follow. 
5 Petal Flowers
Five petal flowers are the simplest and quick craft for preschoolers kids. They can easily make these flowers at home. You can also change the variation of the flower with five to six and more like eight. 
All you need is:
Square color paper

Pencil

Glue

Scissor
How to make these flowers?
Choose a paper that is soft and fold easily. Or just pick a square paper sheet that starts right to these flowers. Fold the square paper in half, mark one-third point on the left edge. Remember to help your kids with this. Pull the bottom right corner towards the one-third point on the top of the left. Fold the left corner over the right edge. Fold the left corner on the right edge. See you have that point on the bottom edge. Cut a horizontal line on the edge of the paper. Start from the left corner to the wedge draw, draw a half-circle that goes with the half-inch above the right edge of the bottom. Cut the line, open the fold. And here you have that 5-petal flowers.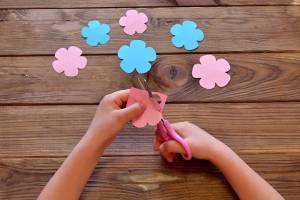 Watercolor Flowers
The watercolor flower is the second easiest the most loveable craft for the kids. Kids always like paints, crayons, colors and they will love to make it. 
All you need is:
White chart paper

Watercolor, oil posters, crayons or any other color you like. 

Bowl or constraints for the colors.

A small glass of water

Paintbrushes

Beads or stones ( optional)
How to make these flowers:
Set all the art stations for the kids on their art table and put a cloth too. Let your kids use all the paint to fill the white paper. They can draw anything like dots, circles, lines or so many others. Once the paper gets dry, cut them into small petal pieces shapes. You will need 5 to 6 petals for each flower. The petal for each flower is for the same color. Cut the small circle from the color paper, the one that your kid has done. Like you use the toilet for the flower and yellow for the circle center. Glue all the petals to the circle center, and make sure they are close to each other. The pointed edge is out of the flower. Let this flower dry. If you need some beads then just glue them on the flower to make it look more attractive. And yes your watercolor paper flower is in your hands.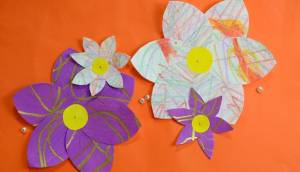 Paper Plate Flower
The most interesting paper flower which looks a little like sunflowers. This paper flower is made from some mundane items, like stars, pipes, etc. but they are so beautiful. 
All you need is:
Dessert size paper plate ( in color white)

Watercolor paints, in yellow, green or any other color you like or desire.

Crafts sticks

Scissors

Glue
How to make these flowers:
Take a plate and start creating petals from the edge of the paper plate. Create slits that can count for eight to ten and are the same shape. Take watercolor and color the paint with yellow, green or any favorite color you like, and spread all the color to the plate. Paint the stick with some different color than the paper plate. Let this dry and glue it with a paper plate. Cut two paper leaves, attach two sticks, from a couple of inches to your flower. And Wow! Your paper flower is ready.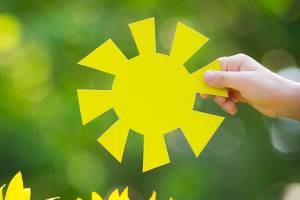 That was all easy right. Making these paper flowers are fun and are easy o encourage your children. As well as develop creativity in your children.
Have some creative ideas for paper flowers? Let us know. We would love to hear from you.